BikeFantasy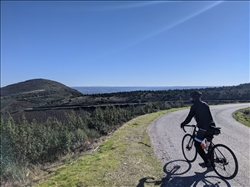 1º - Gonçalo Serrão
2º - Jose António Sales Ribeiro
3º - Alberto Azevedo
Volta a Portugal
1º - Rafael Reis (Efapel)
2º - Mauricio Moreira (Efapel)
3º - Juri Hollmann (Movistar Team)
See all results
Gonçalo Serrão wins Stage 10!
Gonçalo Serrão was the big winner of Stage 10 of BikeFantasy - Volta a Portugal with his pick of Rafael Reis (Efapel), who ranked in position 1 on stage Viseu - Viseu (ITT), lasting 21 kms. On the road, the winner was Rafael Reis (Efapel).
Although Jose António Sales Ribeiro, runner-up on the stage, picked the same pair of riders, the win was awarded to Gonçalo Serrão given that he submitted his pick before his opponent.
Quite incredibly, you are not yet taking part in this competition and we cannot understand what you are waiting for!
Do not forget that you can tally points for the annual ranking through stage wins and challenges we prepare for you. Have fun!
Your JOKER


Viseu - Viseu (ITT) (21 Km)
15 August (Sunday)